In the third evening of the New Democracy series we investigated the potential of the commons to redefine the way we govern our cities.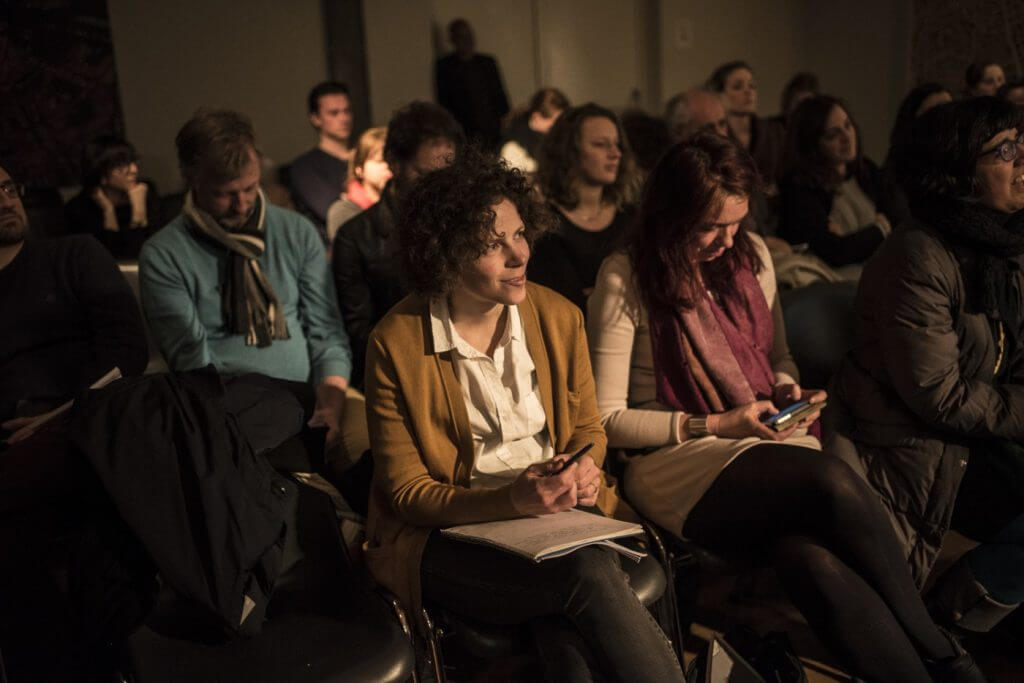 The idea of the commons as a piece of pastureland that needs to be physically retaken is out-dated. Tonight showed the various ways in which the city as a commons can play a role to address issues that go well beyond public space. The practice of commoning was proposed as a viable alternative economy and way of decision making. Director of Medialab-Prado Marcos Garcia, assistant professor in New Media Studies Michiel de Lange, and director of the Waag Society Marleen Stikker explained us how.
Tools of commoning
Culture and technology were mentioned as important tools to realize commoning practices in the city. Marcos Garcia explained how this is done at Medialab-Prado in Madrid. In this cultural centre users can propose ideas for projects and develop these in collaboration with other users from different professional backgrounds. Examples of such projects are data visualization of traffic or air pollution in the city, experimental video games, or experimentation with textile and electronics. In these collaborations culture functions as a mediator.
What culture might bring are good questions, rather than answers – Marcos Garcia
By coming together around a certain project, people start collaborating on issues within their neighbourhoods. In this way citizens who were at first not involved in activism on social issues now become more active and developed their own capabilities through the projects that benefit their community. This process is facilitated by simply offering a space, open calls for proposals of collaborative projects, and 'cultural mediators'. These cultural mediators welcome visitors and connect them with the groups, which enables visitors to become collaborators.
Next to culture digital technology plays an important role in the commoning practices. Michiel de Lange emphasized this by elaborating on the Hackable City as a city in which top-down 'smart city' technologies are combined with bottom-up 'smart citizen' initiatives to democratize city making. The research manifesto and design toolkit 'The Hackable City' was written to show how to create such a citizen-centred smart city in which new media technologies are used to organize cities differently.
"The goal is to use the logic of new media technology to make city-making not just the privilege of architects, planners and other professionals, but involve the other 90% of the people who live in cities." – Michiel de Lange
Seen from this perspective the city is a communal resource, which can be appropriated and improved by professionals and citizens alike. An example of the role of new media technology is the 'Self Build Wiki' that was initiated to help the smaller collectives of people who started building their own homes in the Buiksloterham area in Amsterdam. The wiki did not only enable these self-builders to share information, it also helped to make self-building visible as a viable city making practice. However, as the audience also pointed out, it would be too idealistic to perceive the use of new media technology as the means for democratic city making. It is a bit more complicated than that.
Challenges of commoning
One major challenge is the assumed neutrality of technology. Marleen Stikker explained how on one hand digital media and network tools indeed make self-organization and commoning for larger groups more feasible, but how they on the other hand can also create new capitalist models like Uber or Airbnb. This is one of the main challenges of bringing technology into the cultural domain.
"For me technology is culture. It is a cultural artefact. Humans make technologies, in that sense it describes our intentions. For example if you create data, you put your perception of the world in the data" – Marleen Stikker
Technology is therefore also a value based and intentional tool. So to what extent are we in control? More and more the essence of the commons is getting out of sight by technology's appropriation of what is public and private. As Ana Mendéz de Andés, of the city government of Madrid, explains this means that new kinds of enclosures of the commons are now popping up. There is thus a difference between what we perceive the commons to be and the way the 'public' is actually operating.
"The best way to communicate about the commons is to make the commons." – Ana Mendéz de Andés
Thus we need to develop ways in which society can take decisions about collective resources and be more involved in creating the commons themselves. Hettie Politiek, of the city government of Amsterdam, added that the state's perception of itself being a common obstructs citizens' ownership over the commons. If we want to build and work in commons, we need to reformulate who makes up society – and put citizens making decisions about public resources at central stage.
Impact of commoning
"The field of the commons is a good place for experimenting with ways of how to cooperate, how to live together, how to design and build the cities we want to live in."  – Marcos Garcia
Most importantly, the commons can be a productive framework of thinking to overcome the above challenges. Michiel de Lange proposed to see commons as a productive frame to try to think differently about the values we work with, to realize where culture originates from and to see we can make decisions ourselves. By formulating alternative values of reciprocity and cooperation, practices of commoning help to experiment with new ways of city making.
Marleen Stikker argued we need economic models based on the commons to scale up solutions. This will generate new ways for judging policies focused on values like reciprocity and cooperation. Using commons makes it possible to distinguish between platform capitalism (Airbnb and Uber) and citizen-based sharing projects. The language of commoning therefore helps to differentiate and illustrate clearly what values we are talking about. The commons brings people together to talk about values in new debates where the demands come from the citizens.
You can listen to the debate here: