In light of International Women's Day 2018 the European Parliament together with Europe-Direct Amsterdam organized an evening debate about the still existing gender gap in ICT. Together with different experts and the audience we discussed how digitalization can have a positive impact on the empowerment of women and girls in the Netherlands and the EU.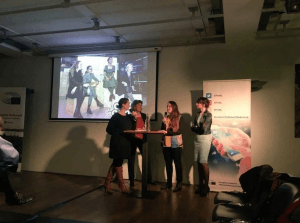 This report is written by Tim Beijer
Digital Inclusion
Currently, software is everywhere. Whether you contact someone via your cellphone, when you order an item from the Internet or when you are typing your mail to your friend. Software developers designed all of the above. In the 21th century, we have become reliant on these engineers to make our lives easier. But the development of technology has not equally benefited everyone in our society. Momentarily, figures from the European Parliament show that little over 9% of all the software developers, and a mere 19% of the CEO's in the ICT sector are female. Due to this imbalance in the sector, many people perceive the job of software developer as a masculine occupation, resulting in the decreased likelihood of women taking up jobs in the ICT sector.
But this should not be the development in our current day and age, said our guests of the night. On March 9th, the European Parliament and Netwerk Decomcratie organized a round-table discussion in Pakhuis de Zwijger with experts in the field of ICT and gender-equality to discuss the gender-gap that exists in the ICT sector. Our guests unanimously concluded on one thing: women and girls need role models.
Gender-gap in ICT
Dr. Konstantina Davaki, researcher at the London School of Economics, started the conversation by providing an overview of the current situation. She pointed out that women face various problems as a result of the gender-gap. Even though ICT could be a great way to empower women, it could also have adverse effects if the gender-gap persists. According to dr. Davaki these problems could arise since it appears that the current sector is unable to solve problems that women face by means of software development. The gender-gap does not only hurt women, it also greatly impacts society at large. Due to the failure to attract and keep women in digital jobs, it is estimated that the European economy loses about 16.2 billion euro annually. Moreover, dr. Davaki stressed that the boost in GDP will have many positive side effects, as women are more likely to invest in family and community welfare than men.
Keeping these benefits in mind, one might ask why there is such a lack of women in the ICT sector. Saskia Nijs, columnist at Het Financieele Dagblad and one of the Dutch InspiringFifty, expressed the concern that there is a lack of female role models in the ICT sector, which could empower women to strive to meet their fullest potential. Due to stereotypes in society, women receive less motivation from their peers to choose a career in the ICT sector. Moreover, as Astrid Oosenbrug, founder of Cyberwerkplaats, pointed out, women in the ICT sector have to work ten times harder than men do, because women are subject to scrutiny more often by their male colleagues. Yet another argument was that of culture. Sjoerd Veltman, project leader at ROC Amsterdam, observed that girls from a non-Dutch background are often subject to a gender bias when it comes to choosing their study. In addition, as an educator himself, he found that the gender bias is ingrained in our educational system. When boys and girls enter schools, boys tend to be more exposed to technology, whereas girls are pushed in the direction of stereotypical female activities. But has this gender divide in the ICT sector always existed?
In short, no, it is a relatively new development. Prior to the 1980's lots of women were active as 'computers' in the stricter sense of the word. Back in those days, women would be tasked to compute data into databases; hence, they were called computers. Dr. Davaki reacted on this development that it was the high price of the new available technology that turned computing into a men's job. When households started buying computers for themselves, the device was often placed in the 'father's room'. Meaning that boys were incentivized to experiment with coding, whereas girls were not. To make matters worse, during the 90's many male role models were created for the ICT sector, such as only male hackers in movies. But it doesn't have to be this way. The harm that the lack of role models does is portrayed by the following observation of Saskia Nijs. When the STEM educational method is applied, it is observed that girls love the many facets of science at the beginning of their education. At the age of 11 however, girls perceive software engineers as nerdy men, dissuading them to pursue a career in the ICT sector. The message cannot be clearer: we need role models!
This process of creating female role models is not without its obstacles Ineke Scheffers stated. As a society we have often been guilty of 'dumbing' things down to make jobs more appealing to women. Instead, we should focus on the fact that understanding ICT is hard. Women should be proud to learn a trade that is not learned without blood sweat and tears being shed. What Vivianne Bendermacher identified as a problem with female role models, is that women active in the ICT sector themselves are often unaware of the fact that they too can be a role models. Moreover, Cocky Booij identified that there is a lack of funding by the government to sponsor programs that might kick start girls into a life in the ICT sector.
Empowering Women
Luckily, there is hope. Various women have emerged as role models in the past few years. By setting up websites and organizations such as Girlcode and Techionista, women are empowered and educated to change industries, which gives them the means to enter the ICT sector. Moreover, organizations such as VHTO have set up programs such as DigiVita where girls can learn coding in and outside of school, thereby incentivizing girls to pursue a career in the ICT sector from a young age. Additionally, the ROC in Amsterdam has made the attraction of women in the ICT sector as one of its goals with the MissIT project. And it has proven to be a successful endeavor. By creating female ambassadors for the ICT studies, future students have shown an increased interest in pursuing a career as a software developer. After the program was started the amount of female students studying ICT increased with a staggering 100% according to Sjoerd Veltman. Developments like these show that role models will play an essential role in inspiring potential female coders.
By changing the current ICT culture, we would enable women who are currently employed in non-ICT sectors, to make a career switch. One of the problems that Cocky Booij identified is that women in the ICT sector should not be afraid to be feminine and should not feel that they have to be one of the boys. In all, as a society we need to value women for the additional values that they can bring to the ICT sector. And as a result, the ICT sector could eventually live up to its fullest potential by including women from all over the globe.
Have a look at the full program and watch the livestream of the event at the website of Pakhuis de Zwijger.