On the 25th and 26th of October Netwerk Democratie joined seven other European partners at the kick-off conference of the European Citizens Crowdsourcing (EUCROWD) project.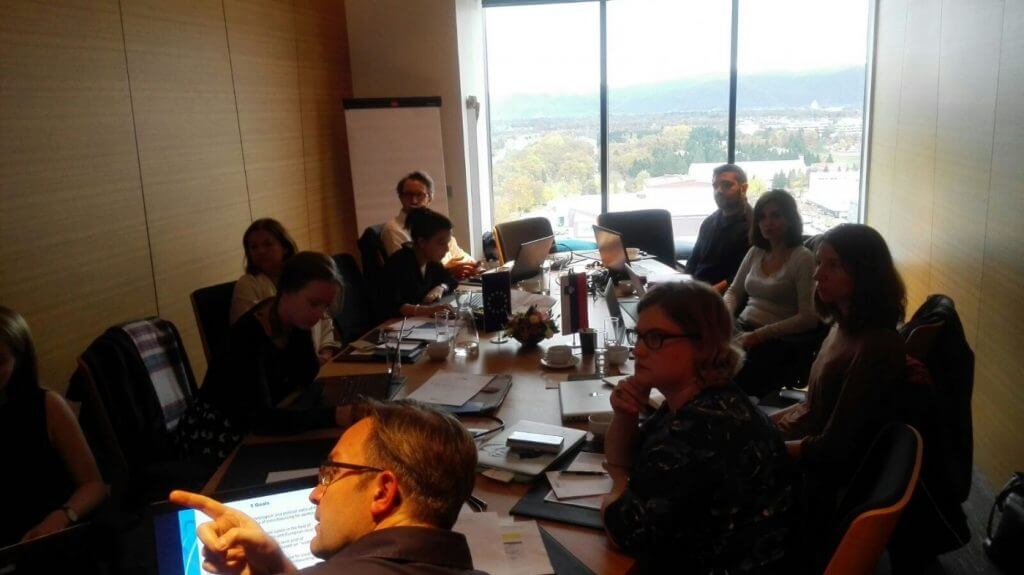 This first meeting of the EUCROWD project took place in Ljubljana and was organized by Slovenian partner INePA (Institute for Electronic Participation) The kick-off conference announced the start of a one-year collaborative project and touched upon many core issues the project will be dealing with. A short summary of some of these issues is presented in this report.
During the EUCROWD project eight European partners from Slovenia, Finland, Latvia, France, the U.K., Greece, Belgium, and the Netherlands will formulate policy recommendations and exchange knowledge on the use of crowdsourcing tools to improve democratic participation of citizens in the EU. Through seven national events the project develops awareness, knowledge and skills for using e-participation both at the national as well as the international level. A full description of the project can be found in our 'Projects' section. The main question that underlines the project is 'how to crowdsource the EU?'. The kick-off conference in Ljubljana first of all established why crowdsourcing is needed, and secondly provided some preliminary answers on what this should look like.
What is the problem of EU level democracy?
A first problem analysis was provided by Belgian partner ECAS in an explorative research on the need for a EU level crowdsourcing tool. This report can be read here. The bottom-line of the study is that the right tools are missing for citizens to adequately represent their voice in the European Union. Existing initiatives to improve citizen participation in the EU have proven ineffective to regain citizens' trust in the European project. There is therefore a growing need for innovative participation tools that conform to citizens' daily life and thereby provide a new way to engage citizens in EU decision-making processes. An analysis of 27 case studies of crowdsourcing from around the globe shows that crowdsourcing can be a promising method to reduce the gap between decision makers and citizens.
Crowdsourcing can be defined as an online practice to solve problems through the collective intelligence of communities and otherwise unreached individuals. It is based on digital technology and the new opportunities for engagement that come with it. An important advantage of digital tools is its potential to make processes more transparent and accessible. According to the first panel discussion at the conference in Ljubljana the potential of crowdsourcing to improve trust between citizens and decision-makers is greatly needed. Ziga Turk, Professor at the University of Ljubljana, for example expressed his hope that crowdsourcing can be a trust building tool for a larger part of society than the current political elite. Transparency also plays an important role to strengthen deliberative democracy. Millicent Scott, from partner organization 'Democratic Society' from the U.K., used the example of Brexit to explain that the lack of information, or even misinformation, plays an important role in obscuring the relation between politics and the impact this has on people's daily lives. The result is thus a lack of understanding and participation. Yvette Jeuken from Netwerk Democratie agreed on the risk that is generated by a lack of good information. Even search engines nowadays function as echo chambers for your own opinion instead of giving you access to new information. Digital tools should therefore have a deliberative moment in which opinions can be formed based on real information.
The problem with EU level democracy is thus that it is not able to adequately bridge the gap between citizens and decision-makers. The EU lacks a mode of participation that is accessible for the everyday citizen, which is further hindered by a lack of accessible and relevant information as well as a lack of trust and transparency. Online crowdsourcing tools have a lot of potential to improve these aspects. A crowdsourcing tool is however not a panacea. What should such a tool look like in order to have the desired impact?
What should crowdsourcing look like in the EU?
Netwerk Democratie for example created the platform 'Volgdewet' to provide real time information on legislation and provide entry point for citizens to participate in the formulation of legislation. For such a crowdsourcing platform to work it however needs genuine institutional backing and an active community of users. The commitment of decision makers is essential to make a platform a serious political tool. For it to work a platform should have a feedback loop that shows the result of citizens' participation. Only then it is able to increase trust and transparency. According to Assya Kavrakova of ECAS a real life tool for participation also provides the opportunity to bring newcomers instead of the usual suspects to the political debate. For this a combination of online and offline events is essential. Also the offline commitment of decision makers is essential in sustaining the legitimacy and trust of an online tool. Only then can a digital tool overcome what Blaz Golob, chairman of GoForSight Institute, called the incompetence of the current policy system in which there is no time to communicate with citizens. NGO's and civil society organizations can play the role of intermediaries between citizens and decision-makers in order to let citizens see the impact of their participation. As professionals in community building these civil society organizations also play a pivotal role in the local and offline context to generate a diverse community of users.
A well functioning crowdsourcing tool thus needs the commitment of institutional parties, an active community of users, to recognize the important role of civil society to make the link with citizens, to have some sort of feedback loop and open information to increase transparency and legitimacy, to have a deliberative moment, and it needs to be accessible in the daily life of citizens. Furthermore, an EU level crowdsourcing tool should be based on crowdsourcing experiments that are already taking place throughout Europe.
Examples of what is already happening
We can learn a lot from already functioning crowdsourcing initiatives throughout Europe. A few of them were present at the conference in Ljubljana and presented their tool.
Nicholas Patte of the French Démocratie Ouverte presented Parlement et citoyens, a tool for public consultations. By putting laws on the platform citizens' recommendations can be crowdsourced. After making a synthesis of the arguments a debate is organized between citizens and congressmen that is visible online and in which decisions can be explained.
Annija Emersone presented MannaBalss.vl (MyVoice) from Latvia. This platform crowdsources ideas and brings these into Parliament when they reach 10.000 signatures. Already 11 initiatives were voted on in parliament and made a change. The platform sustains itself through micro donations.
Vesna Avguštinčič presented 'Let's Improve Maribor', which is an interactive tool to gather citizens' suggestions on an online map of the city. Hereby users are involved in developing solutions. One of the challenges of the platforms is how to create engaged users.
Alexandros Tzoumas of the Greek organization Science For You presented 'DemocracIT'. SCiFY promotes the use of open software in the public sector. The public consultations tool they created enables citizens to give specified comments on an article using tags and even emotions. People interested in that policy area will also be notified about articles in that area. In the end users can also see and review the final law. The tool uses principles of gamification for example by rewarding active contributors for sharing the article in their network and by depicting a progress bar.
Simon Ivanšek presented Trillion, a mobile app for citizens to report crime, emergencies and events, but also a tool for crowd management, protection, and cyber security because the app is directly connected to law enforcement agencies. Being connected to the daily life of citizens the tool also brought up some ethical questions like its lack of complete anonymity or the potential of corrupt use, which can be countered by always needing multiple reports of an incident.
Petra Cilenšek presented the Slovenian initiative 'Smart Voice', which aims to strengthen civic dialogue on a local level and formulate local policies. One problem this initiative encounters is that NGO's are currently insufficiently perceived as key factors in development of local communities in Slovenia. So they are currently investing in gathering information on NGO's at a local level.
So what about the European level?
In a final workshop we discussed the advantages and disadvantages of crowdsourcing tools for the EU. Existing tools show that in general crowdsourcing has the advantages of improved costs, speed, quality of solutions, and diversity. But also the disadvantages of the need for management to make synthesis and keep the platform clean, and actually finding and keeping a community of users. To invest in building a crowdsourcing tool for the EU it is therefore important to implement the tool in a field of policy citizens are particularly interested in to participate in. Topics that are at the top of the list are: immigration, terrorism, economic situation, unemployment, education and the environment.
The previous examples in crowdsourcing show that a crowdsourcing tool in any of these policy topics should at least pay attention to the following aspects in order to be successful:
Building a user centered design (more people should be involved in designing process and it should be an adaptive tool)
Connecting to a diversity of people, also people from disadvantaged minorities
Allowing for discussions
Informing users of the impact of their participation by creating a feedback loop
Institutional support, instead of only depending on civil society organizations
Invest in community building through a network of civil society stakeholders
Include a vision or agenda setting
More information on the EUCROWD project can be found in our project section or on the EUCROWD website.