Creating spaces where the law works for the people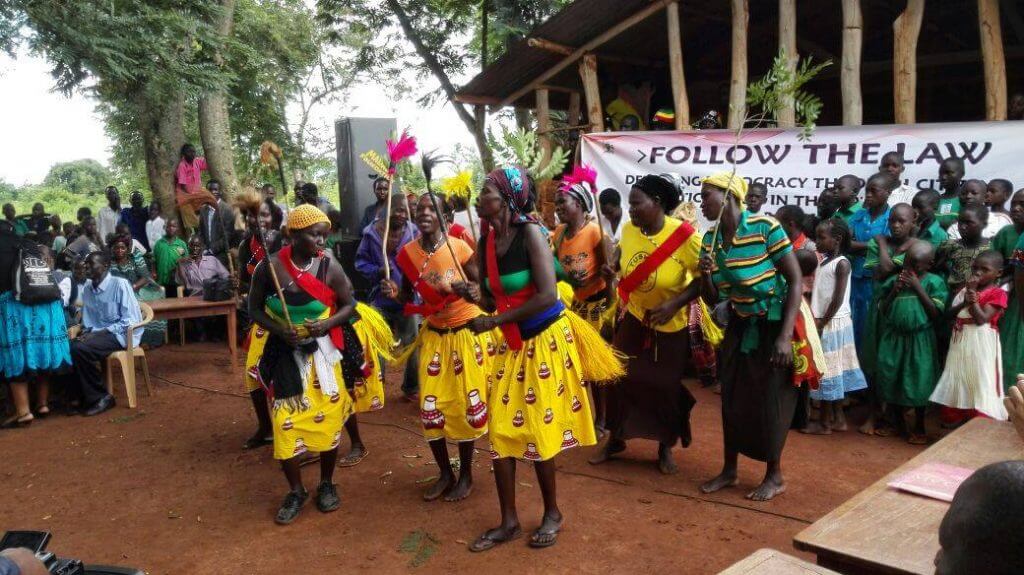 Follow the Law
Follow The Law is an initiative of Network Democracy. It's a web tool that provides a forum for citizens to participate actively in the law making process. The tool has been piloted in the Netherlands through the web portal volgdewet.nl The main aim of this website is to create a platform for citizens who are actively engaged in monitoring law-making processes and creating transparency. A similar initiative through the support of Emotive will be piloted and tested in Uganda and in South Africa.
Description
In The Netherlands laws and policies are implemented effectively, but it is very difficult for citizens to have influence on the decision-making process itself. Policies and laws are pre-cooked before they enter the democratic realm by an invisible network of highly influential actors. Many decisions are made outside the democratic realm, which makes it difficult to hold political leaders accountable for their actions. Whilst creating prosperity and affluence, the same policies and laws set boundaries, and by doing so they limit or conflict with democratic freedom and equality. IMG_20150526_125417
Non responsive democracies
In Uganda, citizens and NGOs have the formal right to propose new laws, and re-write out-dated laws, but it is more difficult to claim the rights set out in law. In South Africa a similar problem occurs. During the democratization of the country from 1994 – 2002 (which may be thought of as South Africa's golden age of policy-making) many laws were enacted to secure citizen's rights. However the existence of these laws and policies does not easily translate into effective implementation, and the period since 2005 has been characterized by protests at the failure of service delivery, with increasing levels of violence. Citizens in Uganda as well as in South Africa are deprived of their basic (human) rights, such as the right to education and health care. In the absence of effective methods of advocacy and channels for dialogue, citizens fall back on protest.
As a common feature of all three countries, citizens are not able to claim the rights they are entitled to, and to have meaningful influence on the issues that concern their lives. This occurs for different reasons. In Uganda and South Africa the causes of the problem are a lack of financial resources, corruption and the weak position of local government. In the Netherlands the problem is more technocratic, with on the one hand a withdrawal of the state combined with a comprehensive set of rules and regulations, and on the other hand a lack of influence on political decision-making. In all three countries, democracies are not responsive to the needs of citizens, democratic representation is failing and citizens lack ownership of social issues.
A Community for influence and advocacy
Volgdewet.nl (Follow the Law) is a community-based online platform for monitoring and influencing law-making processes. With this platform Network Democracy created an opportunity for citizens to monitor and influence law making processes and at the same time advocate for more transparency and accountability. With this tool, citizen and citizens' organization are able to advocate for better government performance, but at the same time monitor if particular laws need to be revised or amended, or indeed whether new laws are needed.
Why focusing on laws
The question is why citizen should focus on law. Laws are typically not the kind of issue citizen talk about in their daily lives. However, if we focus on the role of law, and how it influences our everyday lives, it becomes clearer why citizens ought to be concerned with law, because: "Law is a system of rules that are enforced through social institutions to govern behaviour." And: "Law is a binding custom or practice of a community; a rule or mode of conduct or action that is prescribed or formally recognized as binding by a supreme controlling authority or is made obligatory by a sanction (as an edict, decree, re-script, order, ordinance, statute, resolution, rule, judicial decision, or usage) made, recognized, or enforced by the controlling authority" There important reason pointed out by professor Barbara Oomen, namely: rights and laws are not limited to the legal realm, they are binding for a specific community. They need to be implemented and can be enforced. Hence, "Apart from the legal responses to rights obligations, there are also the social and political responses" (Oomen, p. 38) Governments have a wide range of duties: they have to perform in accordance with these laws.
Monitoring and evaluation
By monitoring the implementation of these laws (in many cases translated in policies and social services), it becomes possible to pinpoint the problems that occur as a result of failing government performance. Linking these issues to specific rights and laws makes a stronger case to advocate for improvement.
Method:
The online tool is used to provide a general explanation of the law-making process in the country. Why it is necessary for citizens to have influence on the decision-making process concerning laws, and how citizens can influence laws. Note that each version of the website is adapted to the political context of the particular country. Citizens and/or citizens' organizations who are involved in influencing laws are invited to "blog" on the decision-making process of this particular law and the actions they take to influence this process. When citizens can influence this particular law, for instance because there is a petition, a citizens referendum or Internet consultation, they announce this on the website and on social media. In addition, the platform can be used as a tool to gain popular support for their citizens lobby. The platform furthermore enlists general tools available for citizens to influence political decision-making.
The tool in itself mainly generates visibility for (citizens') lobby practices and can be used to inform citizens. To build a community of practitioners on citizens lobby, and to generate wider support for citizens lobby practices. Furthermore, it can be used to advocate for more transparency in political decision-making and more influence for citizens. Apart from that it is important to note that the platform cannot stand on its own, it needs to be accompanied with other, offline practices. In the Netherlands, we have build a network of citizens lobbyist and civil society organizations who are involved in lobbying practices that find it useful to share information on the platform.
In Uganda, CEW-IT is actively involved in Neighbourhood Assemblies (NA's) throughout the country (http://cewit.or.ug/projects/use-of-platforms/). Citizens use the NA's laws as a vehicle to set their political agenda. In some cases the issues that are being raised involve law making, resulting in advocacy and lobby practices at (sub) county and district level. Moreover, laws can be formulated by the district or sub county by the political leaders in the district/ sub county with consultation of the citizens as a means of mitigating against a particular issue in the community. Politicians visit regional NA's to consult citizens on laws that are formulated. The online platform is used to create visibility around these practices and inform the general public.
In South Africa the Seriti Institute developed Citizens Based Monitoring method. This is, on the one hand, a method to measure the responsiveness of the government to the needs of citizen via monitoring service delivery from a citizens' perspective. On the other hand, it is a method to build a coalition of citizen who advocate for good governance, resulting in demands on the issue of services deliveries, but also on political and law reform. The online platforms functions as a tool to, again, create more visibility on the activities developed by citizens and civil society organizations.
Partners:
NETWORK DEMOCRACY
Network Democracy is a Dutch organization involved in democratic renewal. Network Democracy has been advocating for actual influence for citizens on political decision-making. Developing IT-platforms that increase political participation, but also transparency and accountability in the political decision-making process.
CEWIT-Citizens Watch-IT
Is a consortium of 6 NGOs in Uganda who have been involved in Democratic processes, Social Accountability, Human Rights, Good governance and Livelihoods. In 2013 CEWIT joined the emotive family and been active since then.
SERITI
The Seriti Institute strengthens community organization for social health and local economic development. It uses large scale participatory methods, and in its systemic interventions forges partnerships involving communities, government departments, non-governmental organizations, civil society and business.