This case study was first published in our Digital Democracy guide 
In Madrid, people can submit policy proposals on the online platform Decide Madrid. If a proposal collects more than 27,000 votes, this is about 2% of the Madrid population, an official vote will be organized by the municipality on whether the proposal should be turned into policy. Many proposals are submitted on the platform, but few of them reach the required amount of votes. That is why the Participation Department, together with the city council, developed a new body that can legitimately and representatively ensure that more proposals get the votes needed.
The result is the "City Observatory", also called citizen jury. This is an official body within the municipality of Madrid that meets eight Saturdays a year in sessions of 7 hours. The sessions take place at an interval of approximately one month and outside of the holiday periods. The citizen jury consists of 49 members who have been chosen through sortition in two stages to represent the people of Madrid. In the first phase of the draw, 30,000 randomly chosen residential addresses in Madrid receive an invitation with information about the function of the jury, the calendar of sessions and a survey that asks about their age and gender. Anyone who receives the letter at home can register as a volunteer for the citizen jury via a reply letter or an online form. Subsequently, 49 people are drawn from the applications based on quotas regarding age, gender and place of residence, so that the resulting group matches the demographic distribution in the city.
Per session:
Participants receive a reimbursement of 65 Euros
Participants work in worktables of 7 people led by a team of moderators
The jury evaluates the proposal that currently has the most votes on the online platform
It is decided by vote, based on deliberation and by inviting initiators and experts, whether an (adapted) proposal, will go on to an official city-wide vote
A report is written and publicly shared on how a decision has been made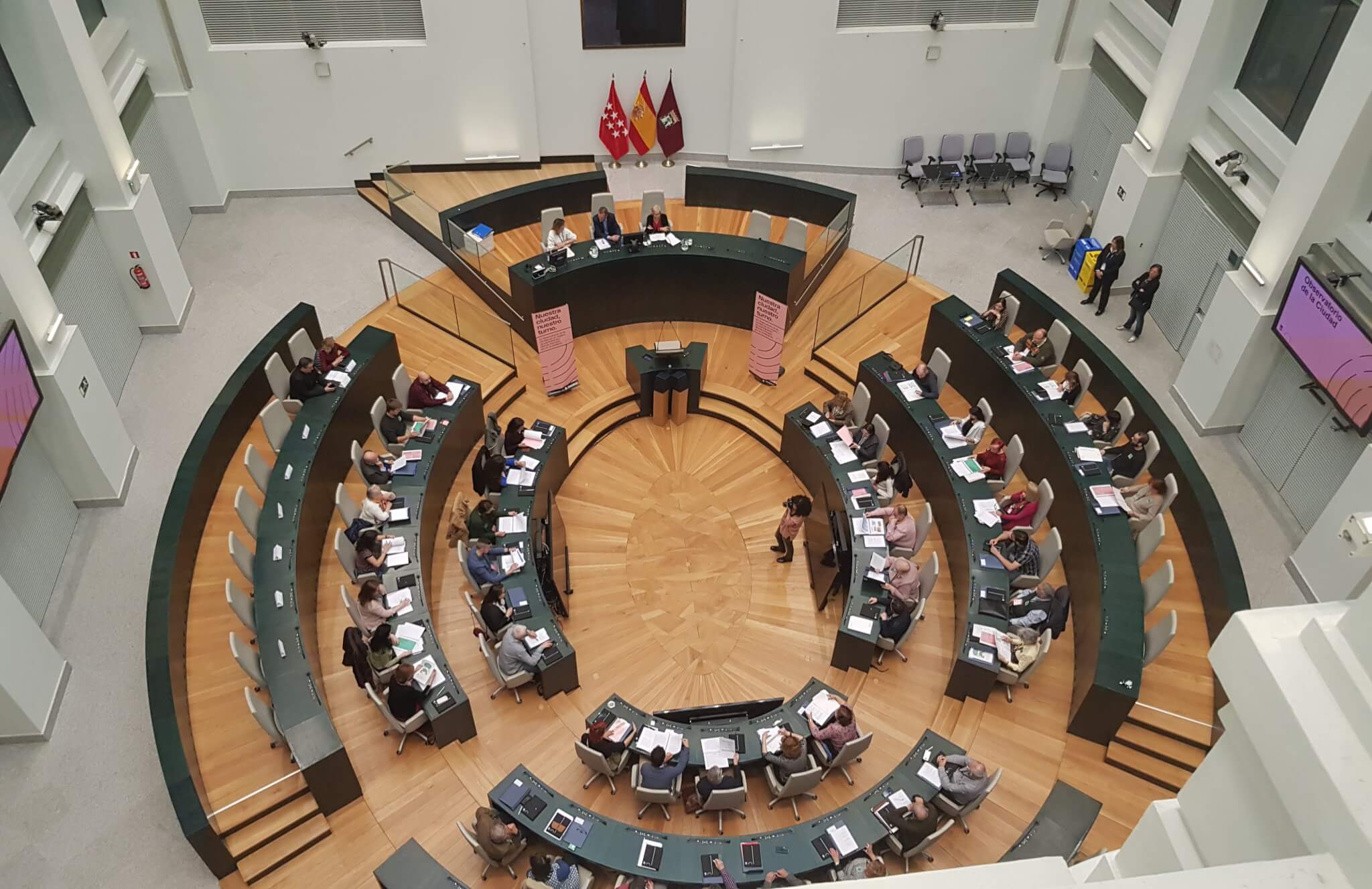 The annually rotating City Observatory is now a permanent part of the online consultation processes in Madrid.