This interview was first published in our Digital Democracy guide

In the last five years, the city of Madrid has been the epicentre of innovative practices by trying to integrate aspects of deliberative and participatory democracy into the existing political structure. The digital platform 'Consul' was developed to give citizens more say in the traditional two-party system and to make use of people's collective intelligence to create a more inclusive and transparent city. Decentralizing policy proposals and decision-making addresses the growing demand for responsiveness. The methods and technology from Madrid have spread worldwide and more than 100 governments are using their own versions.
Interviewees
Miguel Arana Catania is the former director of Citizen Participation of the Madrid city council and initiator of the international Consul project. He has worked on designing and implementing digital instruments and participation strategies in various political spaces such as Ahora Madrid and the 15M movement.
Yago Bermejo Abati was project manager of the Collective Intelligence for Democracy Lab within innovation hub Medialab-Prado in Madrid. Here, research and prototyping is linked to the Open Government and Citizen Participation programmes of the municipality of Madrid
How did Consul start and what need did it arise from?
Miguel: The Consul platform was established after an administrative change took place in the city of Madrid in 2015. Local authorities prioritized new channels for input and they were very ambitious. The idea was to connect everyone in the city and for that we needed a digital platform, because otherwise this would have been impossible.
That's how we started setting up Consul, but luckily we had experience from the civil movement of previous years. Digital participation had already been used on a large scale in the 15M Indignados movement – the largest protest movement in Spain's democratic history. Many of the people involved with Consul had been active in this movement. So we used this experience from the previous four years to design the Consul platform. We were essentially confronted with the same problems: how do we create a space where thousands of people can decide on ideas together and how can we use this collective intelligence?
The Consul instruments and the local platform Decide Madrid were created by the city council, so it is not the civil movement that tried to cooperate with the local government but rather the government that opened itself up to the people. We worked from the outside in and this was very valuable because, even though we worked as part of the government and had this institutional role, we knew from our own experience what the situation in society was.
What motivated the municipality of Madrid to open up to initiatives like this?
Miguel: Madrid is quite a unique case. The party in the new government was a civilian party, which was very new. It was set up a few months before the elections by citizens who had no previous experience in political movements and institutions. The idea that citizens must work together to make decisions was therefore prevalent within the party, so that's one of the reasons why it has become one of the priorities of the new government.
Yago: The input from the civil movement, showed us the connection between direct democracy and collective intelligence and the possibility of linking these two things together to create a 'techno-political hypothesis', as we call it. This entails that connected groups of people conduct politics on the basis of bottom-up proposals. That is what we hoped to achieve. It was an attempt and we still think it will happen at some point, although probably not in Madrid. It was this hypothesis of direct democracy and collective intelligence with interconnected communities and individuals that would create a new administrative paradigm.
Miguel: In addition to strengthening the power of control, we also focused on developing open source instruments and actively sharing them with other governments. A factor that often acts as an incentive for more reluctant politicians to implement such changes is that other governments are already doing it. If they see that it is a general trend and realize that this also gives them the opportunity to collaborate in new ways with other governments, they will be more open to these digital methods. That means that sometimes it is not enough to just share the democratic value of the project or how it can improve efficiency, but also to show that this type of technology and methods are becoming commonplace all over the world.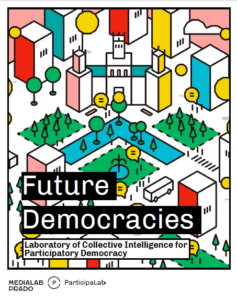 What do you think is an important result of the Consul project?
Miguel: The project already offers more than 130 local authorities and organizations from 33 different countries the tools to innovate their decision-making processes. The place where the effect has been greatest so far is Madrid, where more than 400 million Euros have been allocated through participatory budgeting in recent years, and 1200 policy proposals have been made and voted on by citizens without any interference from institutions. This is really very special.
Yago: I think digital platforms have proved very useful in creating original proposals and showing the creativity and diversity that society has to offer. At the same time, digital interaction acts as a way to create new collectivity of people who live in different places, but who can still connect to create ideas, knowledge and ultimately policy proposals.
Can participatory technology such as Consul also be misused?
Miguel: It may sound strange, but I'm also happy if populists, or anyone else, want to use these instruments. By definition, they cannot be appropriated in a bad way because of the way they are designed. They are structured in such a way that they place power outside the person in charge. So it doesn't matter who is in charge – it doesn't matter if it's a populist, a socialist or whatever – because the method only works by granting the decision-making authority to the citizens.
How do you see the future of Consul outside of Madrid?
Miguel: It is time for other governments to further develop and share this type of public tools. There is not just one way in which digital democracy can be shaped. What we have experienced in our cooperation with other governments is that no matter how much resources and knowledge we share, ultimately they have to experience certain things themselves locally. They have to try, fail, abandon, understand what the problem is, and then try to do it again, but better. We put a lot of effort into guiding them through this process by saying, 'don't do that, do this, focus on that' and in many cases they just don't listen; they prefer to do it the way they like best and they have to go through the trial and error themselves.
The most important thing that we have learned with this participation process and other experiments is that people can be trusted. That means that you really have to rely on the people involved in the processes from the start and relinquish control. So if, for example, you are going to budget in a participatory way, it must be a substantial amount and you really have to let people decide what they want to do with it. If you start small and throw up too many barriers, it won't work. You have to start big from the start, choose the most relevant process and above all trust people!
Consul Democracy Foundation
The Consul Democracy Foundation is founded by a global network of renowned human rights, democracy, open government, civic tech and open source software organisations. The not-for-profit organisation aims to coordinate the further development of the open source Consul project, keep the tool free and open for any organisation to use in democratic processes, build a self supporting community of users, and play an active role in spreading knowledge and best practices on fair and inclusive digital democracy.