In what way did democratic innovations change our democracy? With a.o. Yago Bermejo from Madrid.
Over the last year's cities all over the world started experimenting with new democratic forms. The notion that we need to rethink our current democracy has pushed citizens, scientists and policymakers to develop and implement new government models based on different forms of deliberation and cooperation. Due to digital technology, it has never been so easy for citizens to be part of decision-making processes. In what way did all these democratic innovations change our current democracy? Have our institution become more democratic? Together with innovators from different cities we discuss how we can track, reflect and reassess the implementation of a new democracy.
Yago Bermejo
Yago Bermejo is a member of Democracy R&D Network and works as an independent consultant in the field of democratic innovation involving new architectures with digital participatory platforms and deliberative meetings.
From 2016 to 2019 he has been working as the head of the Collective Intelligence for Democracy Lab (@Participa_Lab) and coordinator of the project connecting Medialab-Prado with the Open Government, Participation and Transparency Area in Madrid City. ParticipaLab has been centered on the collaborative research around democratic innovation, direct a deliberative tools for new participatory democratic processes. Most of the work in this lab has been related with Decide Madrid, the direct citizen participatory platform of Madrid City Council.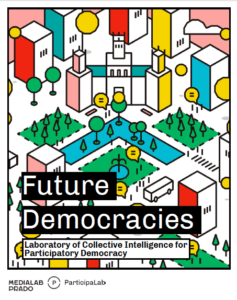 Previously Yago Bermejo has been working at LaboDemo.net, an organization focused on Internet democracy created after 15M movement. LaboDemo has created in Podemos party an entire strategy involving different tools with hundreds of thousands of people participating. He has been also working with the D-CENT EU project designing collaborative legislation tools. Yago has been working as mentor and speaker on different events: g0v.tw Summit in Taiwan, Future Innovation Forum in South Korea and LABICBR in Río de Janeiro, organized by SEGIB (Secretaría General Iberoamericana).
Medialab Prado
Medialab Prado is a citizens' laboratory that serves as a place of encounter for the production of open cultural projects in Madrid. Anybody can make proposals or sign up for proposals made by someone else and carry them out on a collaborative basis. Part of its projects and network are aimed at the study, development and practical application of participation processes that can foster direct, deliberative and distributed democracy. These groups analyze participation processes that combine physical and digital spaces, focusing on the impact and the degree to which participation processes enable citizens to take political action. For the last four years Medialab Prado has played an important role as a citizen laboratory of the municipality of Madrid to built prototypes for public policies, to asses what is missing and to create what is needed according to society.
Madrid, Milan, Rotterdam and Amsterdam
What can Madrid, Rotterdam and Amsterdam learn from each other regarding democratic innovation? After an introduction Yago Bermejo will talk with Ines Balkema, Project leader of Right to Challenge at the City of Rotterdam and Sjoukje Alta, Head of Democratic Innovation and Citizen Participation at the City of Amsterdam about democratic innovation in their cities. In what way are these practices changing their local democracy for the long term? Letizia Chiappini will reflect from here research in Milan and Amsterdam on practices of alternative urbanism.
Evenement gegevens
Event details