Together with the Hmm, Framer Framed is organising an event about internet culture and society, put together by researcher, anthropologist, and community collaborator Rita Ouédraogo at our gallery space.
About The HMM
The Hmm is a growing network of internet culture enthusiasts. We filter the internet and serve you the images, articles and accounts you shouldn't miss. We engage in in-depth research on internet cultures and present fresh perspectives from art, media, design, and technology during our near-monthly events in Amsterdam and beyond.
Guest speakers
– Ambrien Rukhsar Moeniralam
It began as a single Instagram account in NYC, aimed at raising public awareness about the pervasiveness of street harassment. It has since spread into an international movement, and 17 year old Ambrien is leading the way in Amsterdam as the founder of @catcallsofAms. Ambrien is a student at the ROC van Amsterdam, where she is studying Media and Editing, and she is using her Instagram platform to denormalize catcalling. She'll be joining us for The Hmm to talk about her account, what she's doing with it, and why she thinks it is necessary.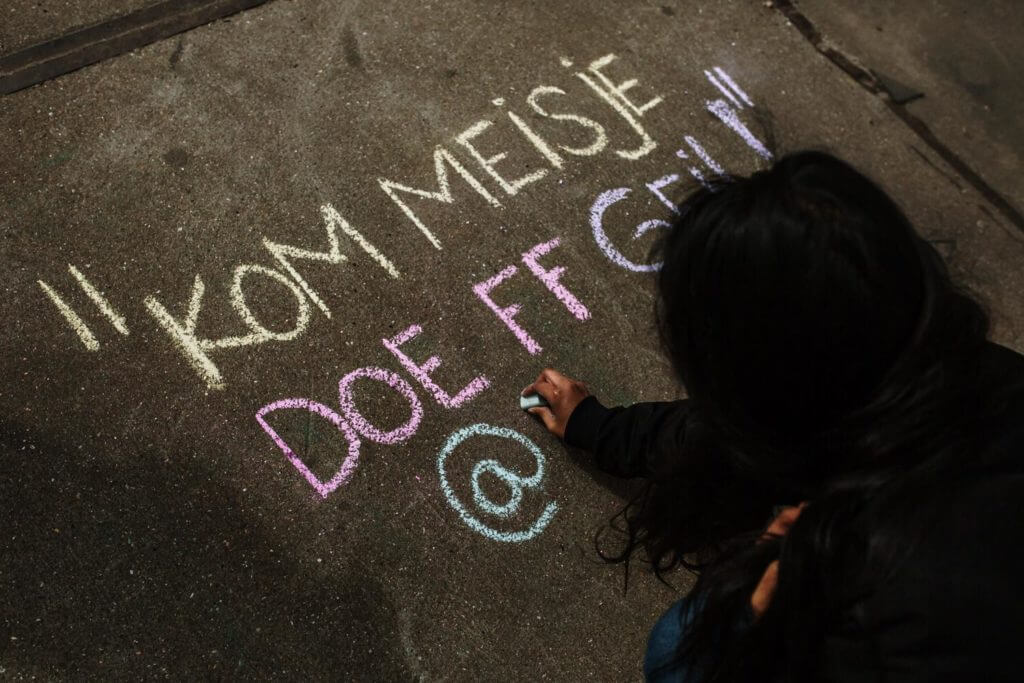 –Ruben Pater
Ruben finds himself being a designer at a time when more design is last thing the world needs. Until more ethical approaches present themselves, he designs, writes, and teaches at the Royal Academy of Art in The Hague. Under the name Untold Stories, Pater creates visual narratives which support solidarity, justice, and equality. His work often starts as a collaboration with other disciplines to create new perspectives on complex social and political issues, and they reach a wider audience through publications, installations, interactive media, or film. Ruben will be joining us for The Hmm to talk about 'Politiek boeit me niet' (I don't care about politics), a ten-part series on youth and politics which will be published on Instagram this year.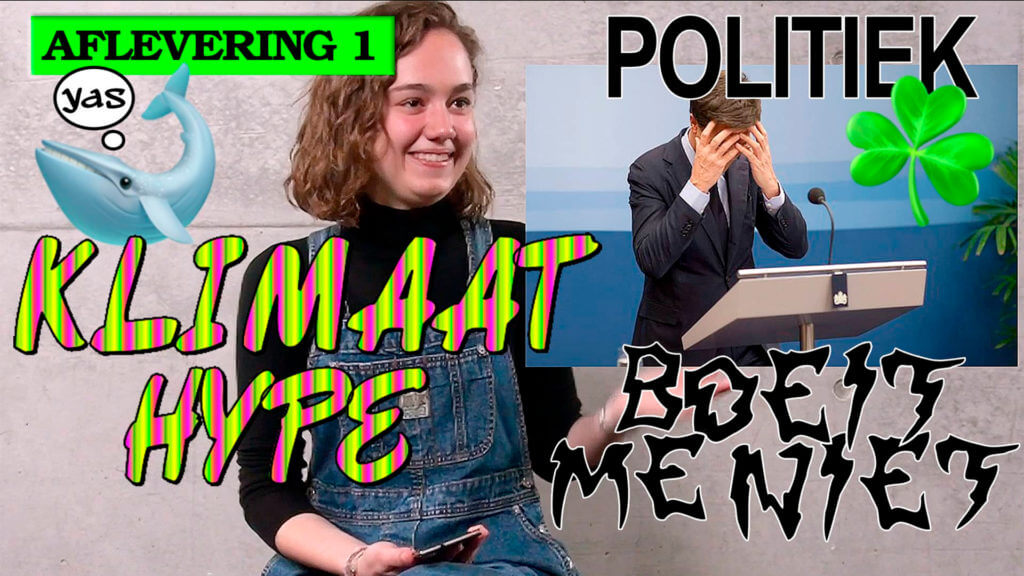 – Anouschka Boswinous
Have you ever imagined something so clearly that it feels like you're watching a movie inside your head? Well, there's a German word for that: Kopfkino. Under the name Kopfkino illustration, Anouschka combines illustration and cultural anthropology to tell stories about gender, sexuality, grief, discrimination, and the climate crisis. As a graphic journalist she dives into a topic by reading and interviewing, resulting in playful illustrations that she shares on her Instagram account. For The Hmm, Anouschka will talk about how she uses the (still experimental) medium of graphic journalism and share (parts of) graphic stories she made.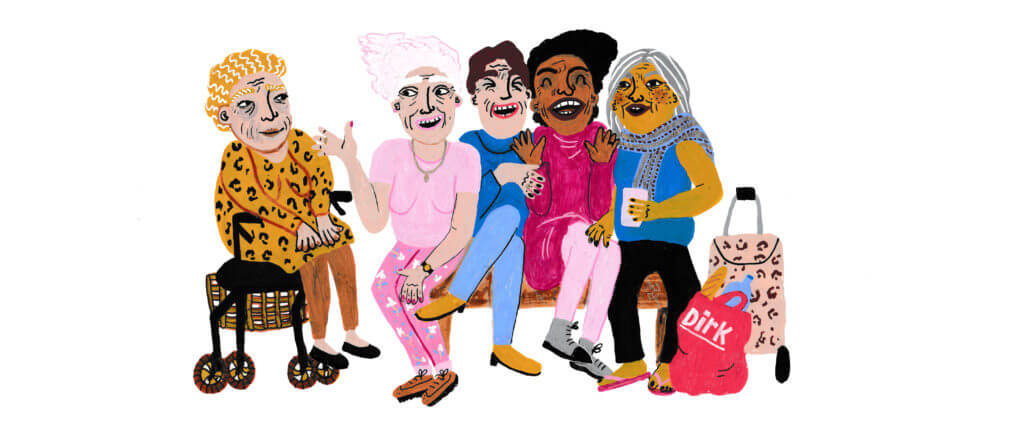 – Emillie de Keulenaar
How can hate speech be moderated without reinforcing the convictions it expresses and exacerbating the divisions that sustain it? This question is at the core of Emillie's research at the universities of Amsterdam and Utrecht, where she looks at the dissemination of far-right political culture from the fringe to the mainstream web. She also explores issues around hate speech moderation, deplatforming, misinformation and online political polarization. Emillie will be joining us for The Hmm to talk about the struggles that online platforms have faced in moderating hate speech and using 'deplatforming' as a method to prevent its dissemination.This tactic has faced fierce resistance, especially since, not that long ago, these platforms promoted themselves as enablers of free speech and "democratic" alternatives to mass media.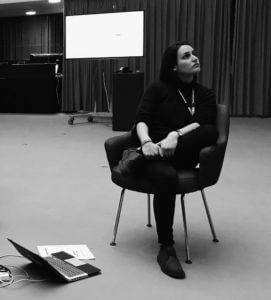 – Simone Zeefuik
Simone is an Amsterdam based writer, cultural programmer and organizer whose work centres around representation, inclusivity, and social justice. She focuses on Africentred perspectives, decolonizing knowledge institutes, the illegalized members of the Afro-Dutch communities, and (digital) archives. Simone has initiated and co-initiated projects like the literary platform RE:Definition, #RewriteTheInstitute , Blaccupy, the Topple Dem Statues-workshop series, #UndocumentedNL, DecolonizeTheMuseum, and the speakers' platform Soapbox. For The Hmm she'll be joining us to talk about stills and GIFs of memorable moments as riddims of critique.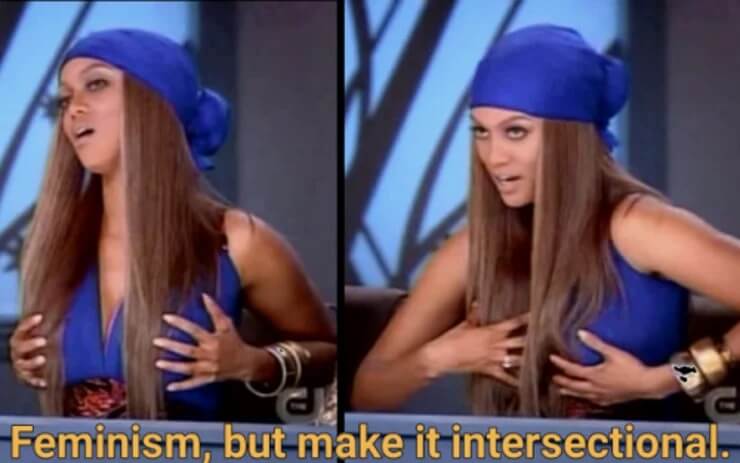 –Noa Jansma
Whether it's an Instagram account, an autonomous school curriculum, or a mapped out system, Noa's work takes shape across multiple forms of media. As a designer, she works across broad themes and aims to expose and map out undiscussed systems and structures by using storytelling as her entry point. In addition to her own practice, Noa is also a member of OFFFENCE collective, an educational design collective, questioning institutions, collectivity, and collaborations. She will be joining us for The Hmm to talk about the anatomy of the comment section of her very well known project #Dearcatcallers, as well as a project that she did together with an internet hater.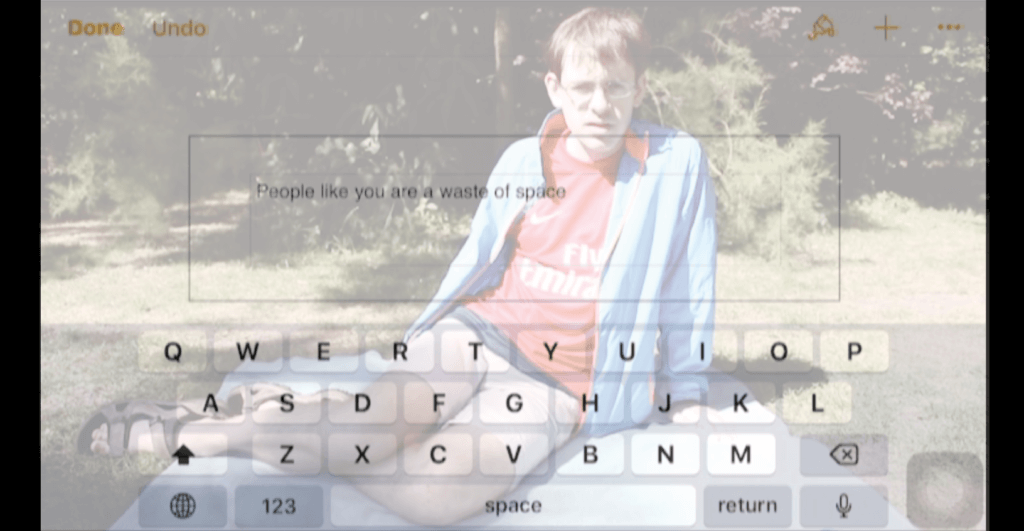 – Renushka Madarie
In the first six months of 2019, there were 3,800 publicly disclosed data breaches, that exposed 4.1 billion compromised records. Moving into the new year, cyber-attacks are considered among the top five risks to global stability. Renushka is currently pursuing a PhD in criminology and studying this phenomenon of criminal online behaviour. We all know that our stolen account data can be traded on illicit online platforms, but what does these platforms look like and how is our data actually being traded there? Renushka will be joining us for The Hmm to provide some insight into these questions and the trade in stolen account data.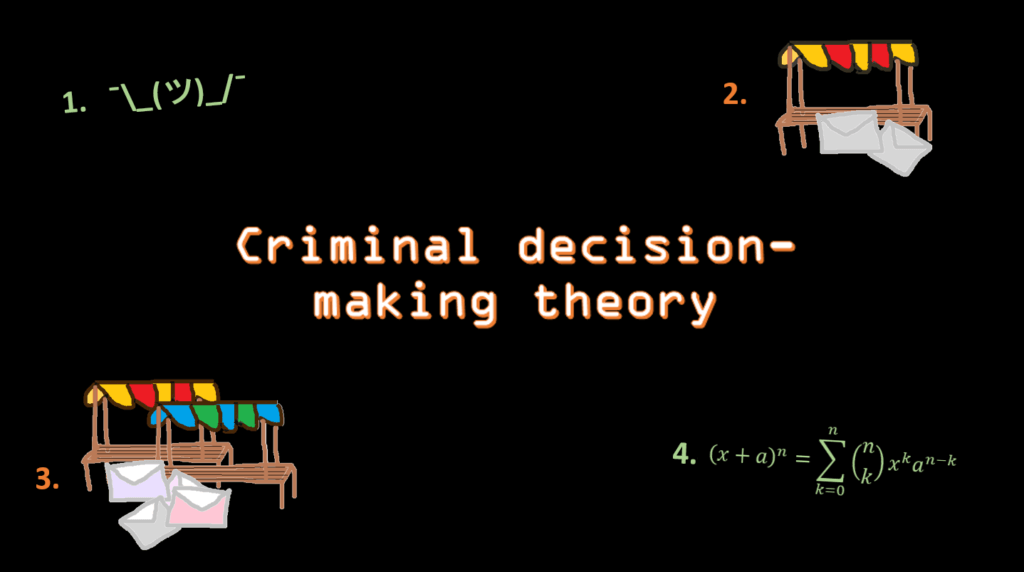 – Frederique Pisuisse
Through an intuitive art practice, Frederique's work focuses on consciousness-expanding non-dualism, resulting in speculative music videos and poetic performance installations. She'll be joining us for The Hmm to talk about Cosmos Carl, an online art platform that she founded together with Saemundur Thor Helgason. Cosmos Carl hosts hyperlinks to artistic projects by more than 200 artists, writers, thinkers and curators, and strives for the creation of more art in the public domain of the internet.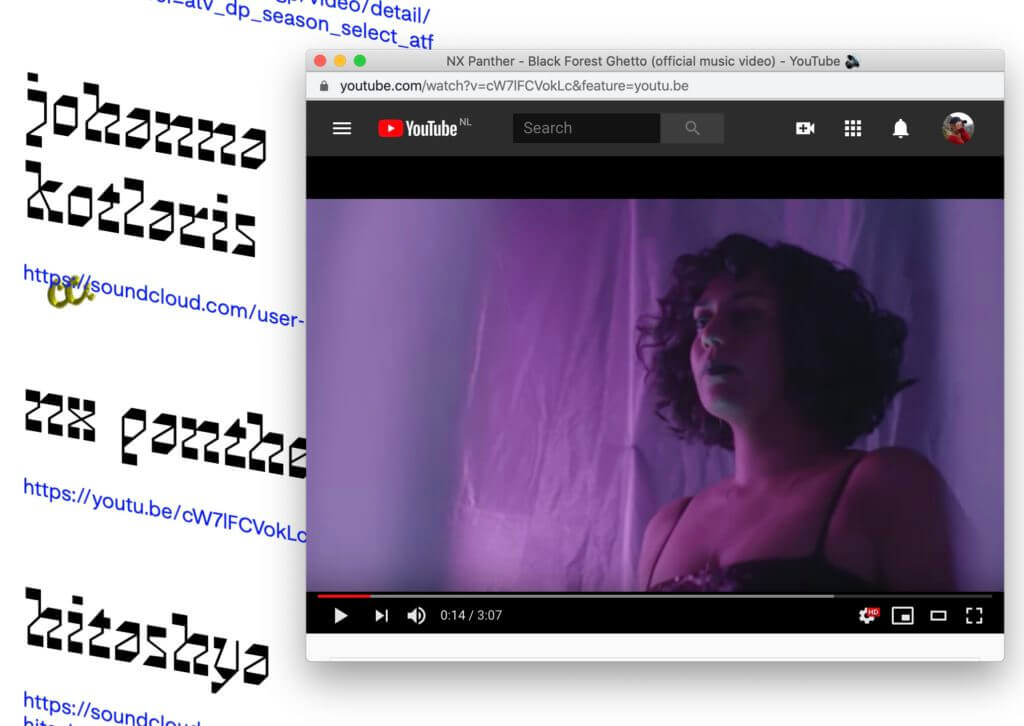 Evenement gegevens
Event details